ear Friends,

Once again we are getting ready for our Lorain Winterfest Hometown Celebration to be held on Saturday November 25th • We need your help to "Light up Lorain" by becoming one of our sponsors. No matter what amount you can contribute, it will allow us to continue with this celebration every year.

Lorain Winterfest is a free "Family Hometown Celebration" providing opportunities for families to visit Downtown Lorain shops and restaurants, watch the parade bringing in Santa for the Holiday Season, enjoy the entertainment at Veteran's Park, participate in the many children's activities at LCCC (in the City Center), visit with Santa Claus at Black River Landing and view the Trees & Trains exhibit.

This is an all-volunteer program with all the donations going directly to help the Lorain Winterfest committee purchase the necessary equipment and decorations. We have many ways you can help. Each level of support is an opportunity to be a part of this family friendly activity and to advertise your support for Lorain.

Attached are the different levels of sponsorship along with our ever popular Banner & Toy Soldier program. If you are not able to pay the entire amount of a sponsor, please donate what you can. Everything helps

For questions please contact Joyce Rhodes at 440-308-6824 or by email at [email protected]

Thank you for your support!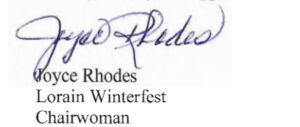 GET A SPONSOR FORM
Download/Print a PDF version of the Sponsorship registration form.
GET A TOY SOLDIER/BANNER FORM
Download/Print a PDF version of the Toy Soldier/Banner form.
SPONSOR FILE UPLOADS

Logo artwork must be high resolution. Only PNG, JPG, JPEG formats will be accepted.

Offline completed and scanned PDF registration forms may be uploaded here.
PAY FOR SPONSORSHIP

Sponsorship payment for registration forms completed offline and submitted by mail, email, or upload, can be made online.

Payment is made through a secure PayPal portal. You do not need a PayPal account to use this method.
THIS OPTION IS TEMPORARILY DISABLED
Sponsorship levels, associated opportunities, and Thank yous
Holiday Lights At Veteran's Park
North Pole Live Reindeer Display
Toy Soldier or Personalized Banner
$200.00 (new) / $100.00 (renewal)
Downtown light pole banner's for business, political officials, schools, nonprofits, or families.
For more information about the Toy Soldier Sponsor program and to download the Sponsor Form, please click on the Toy Soldier link on the main menu at the yop of the page.